Safe, Artful Living At Home
Grab Bars, Handrails, Ramps, Poles
GRAB BARS
Grab bars  are an essential element for maintaining safety in the home as you age in place. , Appropriately placed grab bars ensure steady mobility, and prevent a fall/slip.
INTERIOR HANDRAILS
When maneuvering a staircase, interior handrails provide stability, balance and enhance safety.
DESIGNER GRAB BARS
Solve your safety vs. style dilemma with elegantly designed grab bars. With a wide array of designer styles to consider, you can install safety measures that will aesthetically complement your home. 
TRANSFER POLES
Transfer poles are very flexible in their application. They can be installed anywhere in a room. They provide stability and enhance balance when sitting down or getting up from a chair, a bed and can be used in bathrooms where a grab bar installation is not feasible. 
EXTERIOR HANDRAILS
Outside areas can become much safer with installation of exterior handrails tailored to the unique design needs of the area.
2 FOR 1 GRAB BARS
Save space and add more functionality and convenience with dual-purpose grab bars. After discussing your specific concerns, we can evaluate the right solution tailored to your unique needs that combines aesthetics and independent living all together.   
WHO NEEDS GRAB BARS?
Grab bars can help anyone stay safer in the bathroom, but it is specially designed as support to elderly and disabled individuals. It helps individuals get up, sit down or move around in the toilet and in the bathroom. It also provides support for people to maintain their balance. Grab bars are also something to grab onto in case of a slip or fall.
WHERE TO INSTALL GRAB BARS?
Grab bars can be installed anywhere in the toilet, bathroom, shower and tubs, however it is advised to ask for professionals. What location is best depends on your situation, professionals can help you decide which location will be the most helpful.

How do I get started?
Call or text us at (510) 714-0800 or contact us here. (If you are tech-savvy, please text or email me pictures showing the area.)
In a few minutes we can get an idea of your needs and give you a fairly accurate estimate of your cost. We can set up a video appointment to visit your home virtually for a free consultation. We will take the time to discuss your situation, review the installation areas, discuss pricing and determine the best solution for you. Based on this we will schedule a time to meet on site and reconfirm our earlier findings. We bring all the most popular grab bars with us and install the same day.
Does my grab bar installation require attachment to the wall studs?
Anchoring into a stud is the ideal mounting method. It will always provide the most secure anchor. However, when a stud is not available we use special mounting hardware that complies with the ADA requirement that the grab bar support 250 pounds.
Do you install designer grab bars?
Yes. We can provide and install custom or designer grab bars. We have access to most major manufacturers.
What is CAPS ?
The CAPS certification stands for Certified Aging in Place Specialist. A CAPS understands the unique needs of the older adult population and is knowledgeable about, aging-in-place home modifications, common remodeling projects and solutions to common barriers.
Do you install grab bars in areas besides bathrooms?
Yes. Grab bars can be helpful at doorways, at the bedside or in the kitchen. Some people find them helpful at the top of the stairs or coming in from the garage. We will help provide safety wherever you may need it.
When can I expect to have my grab bar to be installed?
We can usually come by your home within a couple of days from your initial call. If you need immediate service, let us know and we will do our best to help you right away. We carry a nice selection of bars with us. You can have them installed the same day we visit you for your consultation.
What payment types do you accept?
About Bill
Throughout his varied professional life, Bill has infused his work with a keen attention to detail and aesthetic.  After graduating from Northwestern University as a student of music, Bill pursued a vigorous professional career playing trumpet with various symphonies, orchestras, and bands. Ten years later, his professional pursuits took a new direction, leveraging his interests and skills to become a licensed contractor with a specific emphasis and devotion to preservation of architecture unique to Northern California.  His expertise and demonstrated commitment to maintaining architectural integrity earned his company contracts to work on numerous homes and buildings of architectural significance in the region. Bill has also served on the Design Review and Historic Preservation Commission for the Town of Sonoma.
"I called Bill regarding the installation of grab bars in our bathroom and garage. He came over that afternoon with samples. Impressed with his presentation we made an appointment for installation. Totally impressed with his suggestions for placement and the quality of work. I would definitely recommend his service. As an elder am very aware of the consequences of a fall. Be safe."
"Thank you so much for your help, professionalism, and quick communication as it made the entire process seamless. This will go a long way to making my client able to ambulate independently. 
I will certainly be passing on your information to my organizations and look forward to hopefully working with you in the future so we may continue to serve those in our community that need our services to maintain autonomy. "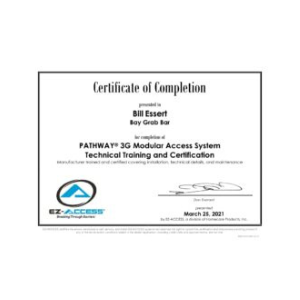 A safe and secure home helps build a strong and loving family. By creating a comfortable and pleasant space, we demonstrate our...
read more
"Safety isn't expensive, it's priceless."
~Jerry Smith